| | |
| --- | --- |
| Ocean's Edge | Spirit's Journey |
Six lyrical vignettes from the Northern California Coast
by Robert Bornn and Laura Worth
This colorful and enchanting, nonviolent nature film on DVD is for your
peaceful relaxation and inspiration. (It is also excellent for yoga, dance,
exercise, and meditation as well as for romance and family viewing.)
Evocative, African-inspired music
by Robert Bornn (on xylimba and drums)
and Laura Worth (on alto recorder).
Colorful visuals with six instrumental duets celebrate
the lyrical, spiritual, and sensuous sides of nature on
the wild Mendocino Coast.

1. Homeward Bound (1:38) The seabirds head for home.
2. My Heart (0:48) Nature weaves the smallest things into beauty.
3. Passion (6:35) Great waves and the ebb and flow of the tides.
4. Pas de Deux (4:02) The dance of sunlight, waves, and birds in flight.
5. Courage (3:38) The seabirds return and skim the waves.
6. Our Love (1:00) Two seabirds unite and fly into the future.
Ocean's Edge - Spirit's Journey is newly available on DVD
This 18-minute movie has three sound track choices and a
3-minute "Filmmaker's Comments":
---

Filmmaker Robert Bornn's latest release, Ocean's Edge – Spirit's Journey,
sets dramatic coastal images, evocative abstracts, and natural ocean sounds
to original, improvisational duets with Laura Worth. Their observation of
gratuitous violence in typical "savage nature" documentaries has led them to
develop the alternative, nonviolent, nature film series, Ebb and Flow. First in
that series, Ocean's Edge – Spirit's Journey features seabirds as a metaphor
for the persistence and poignancy of life. In it Robert weaves their six
instrumental ballads with his natural visuals to create an exciting journey
through the eyes of a seabird. Filmed on digital videotape at sunset, nature
provided all the vibrant colors and visual "special effects."

For more than four decades Robert Bornn has created a wide variety of films
and images. In 1968 his first lyrical film, Mandarin Orange Matrix, was
screened at the historic Filmmakers Cinematheque in New York City.

Robert and Laura (pictures and bios) have also each been making music for
more than four decades. Prior to developing their duo style, they built a
musical ensemble, DIAJ (Drummers in a Jam), creating a new
African-Inspired, California-Grown music. Robert produced their abum,
Pangaea: Old World, New Visions on which their melodic and rhythmic
improvisations are featured with lead vocalist, Ma Boukaka, the
Congolese-American entertainer and teacher.

Visit Robert at www.bornn.com to learn more about him and see samples of
his art. Visit Laura at www.coachworth.com to learn more about her and life
and relationship coaching. Download free samples of their music library at
www.bornn.com.
---

Music recorded at Haven Studio (Menlo Park, CA). Images from the Northern
California Coast. Post production at SeaDrift Media Studio (Caspar, CA).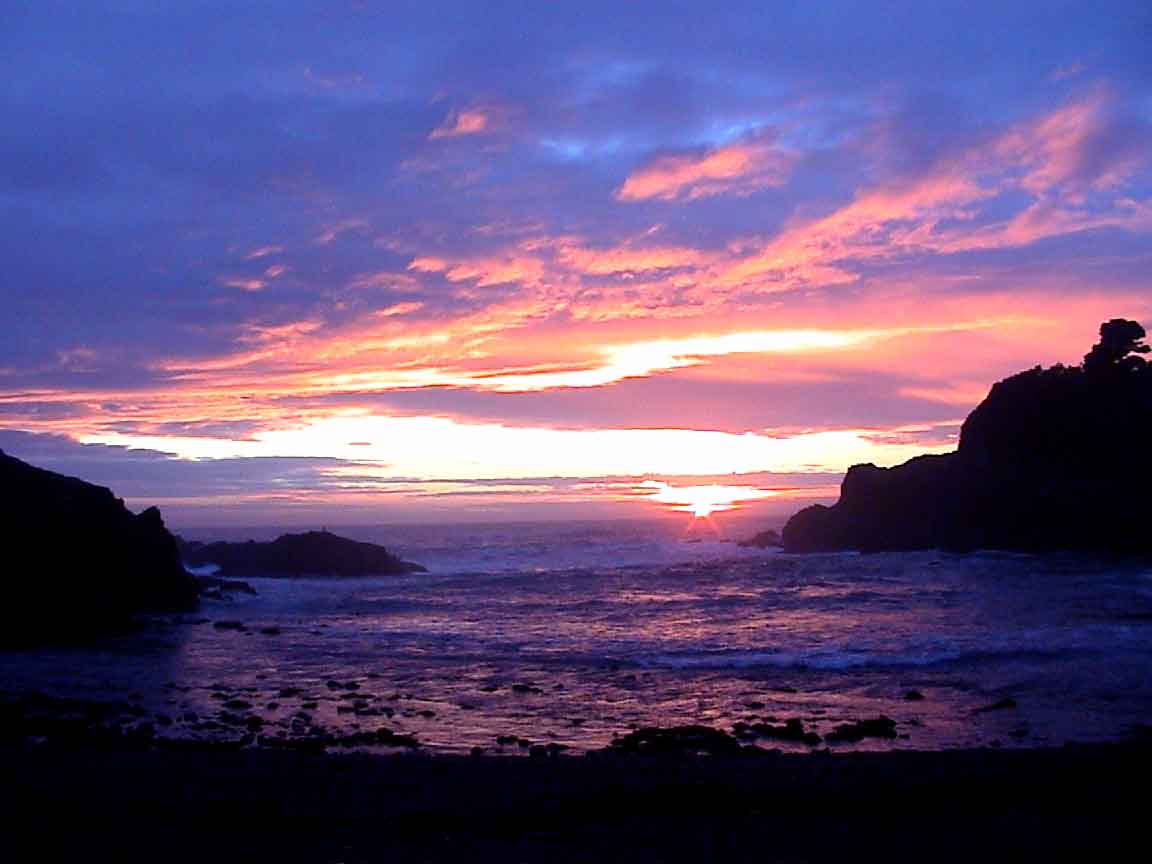 1. ORDER the
Ocean's Edge - Spirit's Journey
DVD


2. FREE download
of 3-minute, lo-res,
Filmmaker's Comments from the
Ocean's Edge - Spirit's Journey
DVD

* 15 MB - windows media video format (.wmv)
We are happy to provide
Ocean's Edge-Spirit's Journey at no extra charge for public viewing to certain organizations dedicated to the public good (such as libraries, museums, schools, and art centers).
Please feel free to download the"Filmmaker's Comments" for your own non-commercial use.

Please contact us for information about licensing our music
and images.
Contact us at:
robert@seadriftmedia.com
(206) 463-4284