Pangaea
Old World, New VisionsÔ
DIAJ (Drummers in a Jam)
featuring Ma Boukaka, Robert Bornn and Laura Worth
More About the Pangaea Album
Song Titles
Free Samples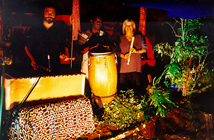 Executive Producer and Artistic Director: Robert Bornn
Lyrics: Ma Boukaka
Arrangements: Ma Boukaka and Robert Bornn
Liner Notes: Robert Bornn and Laura Worth
Production Editor: Laura Worth
Photo: Robert Bornn
Engineering, Digital Recording, Mix Down, Digital Master: Robert Bornn
Recorded at Haven Multimedia Studio
Traditional Bantu lyrics of unknown individual origin.
Songwriting © by Ma Boukaka.
Copyright © 1998 and (P) 1998 by Robert Bornn, dba Big Deal Productions.
Old World, New Visions is a trademark of Big Deal Productions.
DIAJ and Drummers in a Jam are trademarks of Bornn & Associates.